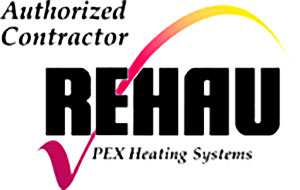 We install Rehau RAUPEX O2 barrier PEXa pipe, Rehau solid brass distribution manifolds and use Rehau brass connectors when installing our radiant systems.
Creating Zones of Comfort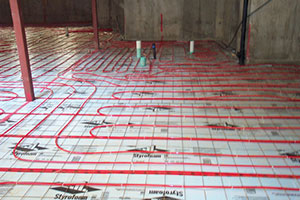 A very popular installation we do is a "Basement Radiant Heating/Warming System".
A single zone system, with temperature control through a slab sensor and slab sensing controller. The System can be heated by a boiler system or hot water tank that is designed to provide Domestic Hot Water and Radiant Heating.
The installation process is a follows:
Stage 1 – Rough-in: Insulation and wire mesh is installed in the designed radiant area. 1/2″ Rehau pex tubing is tied down to wire mesh at 6″-9″ off centre spacing.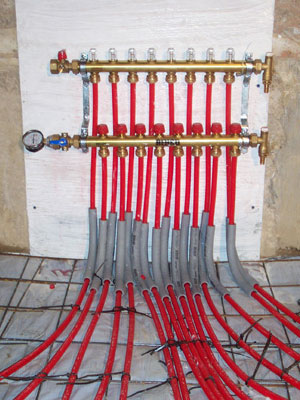 The pex tubing runs to and from a Rehau pro-balance brass distribution manifold, which includes cement expansion bends, slab sensor data cable conduit pipe, and solid brass connectors. In most cases, the manifold is placed near the heat source. If the manifold is located away from the heat source, 1″ pex feed lines will also be run from the heat source location to the manifold. The manifold is pressurized to 60 psi for at least 24 hours prior to a cement over pour.
Stage 2 – Final tie-in to heat source:
Connecting to a heat source will depend on your new or existing heating system.
System is Existing Boiler
System is New Boiler
System is Forced Air Furnace
This page is currently being updated.
Please contact us if you require immediate information.