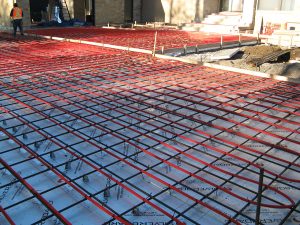 Snow and ice melting systems are hydronic systems designed to facilitate the removal of snow and ice by circulating a heat transfer solution (usually glycol and water) through RAUPEX O2 barrier PEXa pipe. With proper design and installation, Our systems provide long-term performance and reliability. In addition to the safety benefits, snow and ice melting systems can reduce indoor maintenance costs (no salt or water tracked inside), eliminate the costs of snow removal, reduce liability exposure, as well as provide unmatched convenience.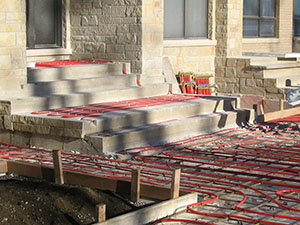 The same snow and ice melting systems that keep hospital entrances clear of snow and ice can do the same for your driveway, walkway and landings. They're configured much like our radiant floor heating systems except that they're installed underneath driveways, sidewalks, patios and carports.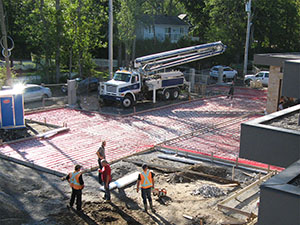 We use controls to automatically operate snow and ice melting systems. The Tekmar Snow/Ice Sensor 090 and Sensor Socket 091 are wired to a Tekmar snow melting controls to automatically detect snow or ice. Wi-Fi enabled controls are available.
A high efficient, stainless steel, modulating and condensing wall mounted Boiler system is used as the hydronic heat source. It is filled with a 50% glycol 50% water solution (50/50) and glycol mini feeder system is added to maintain system pressures.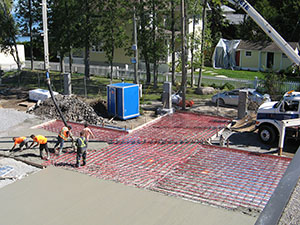 Our systems install underneath virtually any type of surface – concrete, asphalt, or under pavement (sand or crushed stone). Snow and ice melt systems can be installed in a wide variety of applications, or any surface, residential or commercial, that should be clear of snow and ice buildup
Driveways
Hospital entrances
Parking garage ramps
Wheelchair ramps
Parking lots
Sidewalks and steps
Helicopter landing pads
Roadways
Car washes
Hot tub/pool surrounds
Runways